Nestlé's Coffee-mate 2GO gets innovative new cap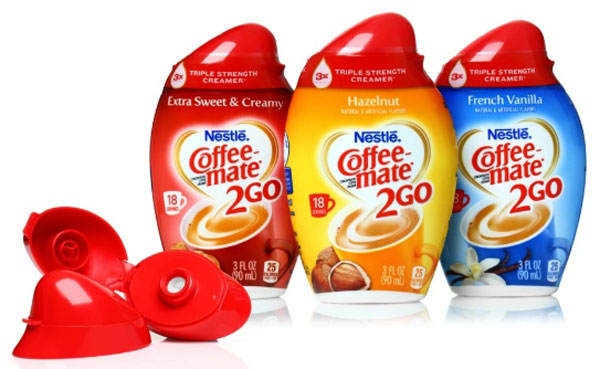 Global Closure Systems (GCS; Libertyville, IL) has designed a bespoke closure solution for Nestlé's Coffee-mate 2GO for all those on-the-go coffee drinkers out there looking for a portable solution for their morning ritual. The new creamer dispensar was launched at the end of last year and incorporates a silicone valve sub-assembly designed and manufactured by Zeller Plastik, GCS's production plant in Libertyville, IL.
Coffee-mate 2GO, the innovative and breakthrough product for the Coffee-mate brand and the creamer category, is a conveniently-sized, 90ml portable creamer that doesn't require refrigeration, giving consumers to option to enjoy their favorite beverage wherever they please.
"The silicone valve has been specifically designed to perfectly match the product formulation," said Peter Goshorn, Sales & Marketing Director, GCS Americas.
The closure's red glossy finish offers stand-out, on-shelf appeal, while the need for tamper evidence is provided by a full body sleeve.
Coffee-mate was launched by Nestlé in 1961 as the first "non-dairy creamer" on the market, and the brand owner has said GCS has met all the technical requirements and specifications of its beloved brand.
"Zeller Plastik's collaboration on the cap development and execution for Coffee-mate 2GO helped us develop the perfect solution for the loyal Coffee-mate consumer who needs a portable creamer," said Cyrille Durand, Group Manager, Technical Packaging, Nestlé USA.
"The market for enjoying coffee outside of the home continues to grow and developing Coffee-mate in a practical, ready-to-go offering meets the lifestyle of today's consumer."