CBW Automation Wins 'Best Part Design' in IMDA Competition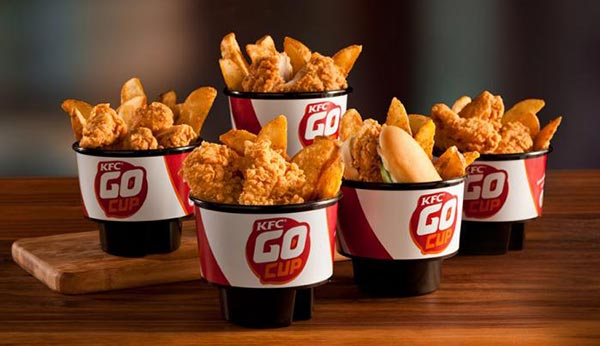 CBW Automation Inc., a U.S. manufacturer of robots and advanced automation solutions focused on injection molding and thermoforming applications in the packaging and medical markets, took the Gold Award in the In-Mold Decorating Association's recent parts competition for Kentucky Fried Chicken's Go Cup. The KFC Go Cup package helped drive Kentucky Fried Chicken's new snack menu last fall and was featured in Super Bowl commercials.
The Go Cup is designed to fit into a vehicle cup holder for handy snacking. It has an integral divider designed into the cup to hold chicken strips in one side and French fries in the other. With the center cutout section, it was a very difficult container to decorate using standard printing methods. In fact, standard printing methods would not work because of the design. So the company decided on the IML process.
This unique design was a collaboration between Yum Brands and Berry Design Center, a unit of Berry Plastics, a leading innovator in thermoformed and injection molded packaging and protective solutions for the world's largest brands. As part of the collaborating team, CBW Automation designed the In-Mold Labeling (IML) automation.
The label printer, Korsini-SAF, designed the one-piece, full wrap label with smart graphics that really pops on the black cup and provides maximum graphic coverage.  The in-mold label featured KFC's everyday branding and logo, and can easily be changed for promotional or seasonal artwork.
Both the Go Cup and the label are polypropylene, which makes the Go Cup a great candidate for recycling, adding to the sustainability factor. CBW Automation will be exhibiting next week at Pack Expo 2014, Booth #7125. CBW Automation's high-speed IML systems are made in the USA, and come with full service and parts support.
"We do not have cookie-cutter systems or 'one size fits all' solutions," notes Robert Harvey, vice president sales and marketing for CBW. "Each system that we design, develop and build is customized to meet the specific needs required by our customers' applications, and is tested to ensure total reliability."
CBW Automation's custom IML systems provide innovative label delivery including rotary die-cut, guillotine cut, and their latest innovation that will be unveiled and on display at NPE2015 (March 23-27, Orlando, FL). Some of CBW's innovations include flexible, quick-change designs to accommodate a variety of SKUs; independent control for different label placement strokes, varying intrusion depths, and a variety of label configurations. CBW has also provided custom tooling storage carts for extra convenience.