German Machine Makers Cautiously Optimistic; China Takes Output Lead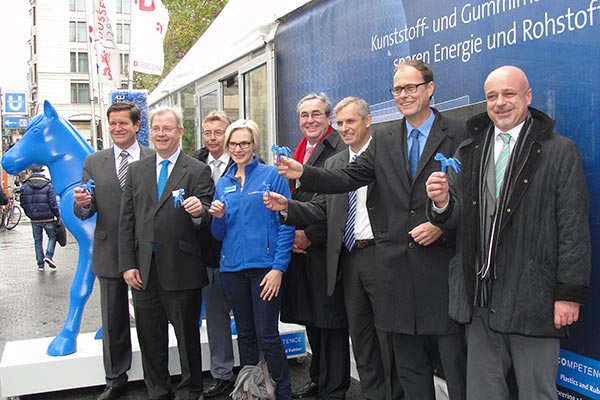 Double-digit growth in orders and demand in the first quarter of 2010 for plastics processing machinery proved a pleasant balm on the sores left by the unprecedented drop in business that took place during the Great Recession of 2008-'09. The annual meeting on May 27 of Germany's plastics processing machinery association members made clear that the group's leadership remains cautiously optimistic that business will continue to improve.
Global production of machinery for plastics and rubber processing dropped 22.8% in 2009, according to figures shared by the plastics and rubbery machinery group within the VDMA, Germany's association for machinery manufacturers. German machine OEMs saw their production drop even more, by 31.3%, which corresponded to a drop in total market share from 25.3% to 22.6%.
With that fall, Germany's machinery manufacturers give up their leading position in the market to their competitors in China, who only suffered a 5.1% drop in business in 2009 and saw their share of the global market climb to a leading 23.5%, almost double Chinese manufacturers' share in 2005. Holding third in the production ranking are Italy's machinery manufacturers with about a 12.1% stake, almost unchanged over the past five years. U.S. manufacturers in the same time period have seen their share of the world market fall from 9.6% to 6.5%, and Japanese machine OEMs have fallen from a 9.3% share of global production to just 4.1%.
Time to make hay
While 2009's numbers got their due, during the meeting the focus of the group's members, who represent more than 90% of the country's plastics and rubber processing machinery output, clearly was on making the best of the rapidly improving market. "We're seeing double-digit growth rates now," said Ulrich Reifenhäuser, chairman of the group and managing partner at the extruder manufacturer bearing his last name. "This is the perfect lead up to the K show (in Dusseldorf starting Oct. 27)." Orders from plastics processors are especially strong now in Asia, particularly China, noted Reifenhäuser and others. At his company, he said, demand for blown film and sheet extrusion units used for packaging applications has come back strongly, with orders from North America and Western Europe improving but at a slower pace as those from processors based in Asia or the BRIC (Brazil, Russia, India and China) countries. "Orders in the first quarter (at his company) are comparable to the level of the best quarter in 2008," added Reifenhäuser.
Asia: where the action is
"Globally, every second injection molding machine sold is installed in Asia," noted Dieter Straub, part of the group's leadership council and also CEO at KraussMaffei, which makes injection molding, extrusion and reaction processing machinery. Straub opined that the shift of business to Asia is not a trend so much as a lasting affect of the years prior to and including the recession. "After the crisis, things truly are different. Markets have truly changed. The two lasting trends: the shift of plastics processing to Asia, and the ongoing trend to greater use of automation and complete work cells."  Such "process solutions" – processing machinery equipped with automation and more, designed for a specific application – are in demand everywhere, said Straub, be it a low-labor cost country or in more developed ones.
Asked about the current financial travails in Europe stemming from uncertainty about Greece's and maybe other countries' ability to repay its foreign debts, Reifenhäuser said his group's members agree that a weak common European currency (the euro) is more a help than a hindrance, due to the German machine manufacturer's strong dependence on exports.
Looking ahead, the VDMA's member companies expect orders growth of about 11% this year and next. Threats to that growth could include climbing costs for raw materials and energy, 'overheating' of economies in developing countries, and the ability of markets to continue growing as government economic stimulus programs lose their steam. The group's next updated figures will be presented in October at the triennial K show.