Plastics Plays Key Role in Zero Energy Homes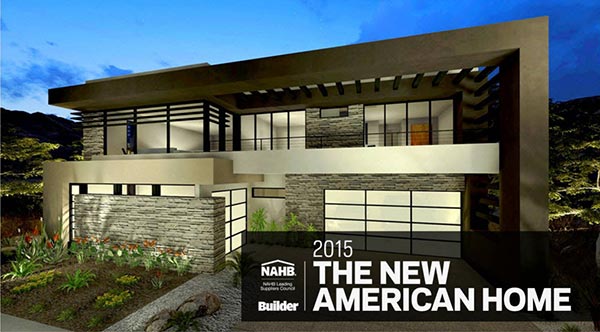 The National Association of Home Builders (NAHB) just concluded its annual International Builders Show (IBS) in Las Vegas, and as usual one of the big features was a tour of The New American Home (TNAH) built by a selected homebuilder. This year the TNAH was designed and built by Blue Heron Design/Build LLC and built in a suburb of Las Vegas, just a few miles from the famous Las Vegas Strip.
TNAH 2015 is designed and built to exceed Emerald status, the highest level of certification from the ICC 700 National Green Building Standard. Featured include photovoltaic panels, open spray-foam insulation, a weather-sensitive irrigation system that automatically adjusts usage relative to the immediate climate, high-efficiency water heaters, hydronic air handlers, intelligent fireplaces, balanced daylighting and low-maintenance building materials, said the NABH release.
These ultra energy efficient homes aren't just for show at IBS. According to a news article in the National Lumber and Building Materials Dealers Association (NLBMDA), a Florida architect designed a 4,350 sq-ft home in Jackson Beach, FL, that has utility bills of $50 per month. That home features energy-saving lighting and appliances, and solar power installed on a white roof, which provides most of the home's energy.
Ultra energy efficient homes have long been the dream of many entrepreneurs. But the extreme focus on sustainable energy and the rising costs of traditional energy sources has created a real push in recent years toward Zero Energy. Plastics are playing a huge role in this.
For example, one early entrepreneur in this endeavor came to Phoenix from Oregon back in the 1990s with a company called Ener-G Block (now called EnerG Block owned by EnerG Corp. in Mesa, AZ). The building blocks, formed exactly like cement blocks, were processed in polyurethane when the product was first developed. The blocks were then "threaded" over rebar embedded in a concrete footing, much like traditional cement blocks, the wall "straightened" to exact dimensions, then cement poured down through the cavities of the block wall.
What Ener-G block created was a virtually airtight home (or church as the company built a church in North Scottsdale that I saw being built), with miniscule electric bills even using traditional energy sources from the local power company. Then-mayor of Scottsdale, Herb Drinkwater, was so impressed that he built a 3,500 sq-ft home that had sub-$50/month electric bills, even in Phoenix's hottest summer months.
While that impressed consumers, it didn't impress the electric companies. After all, they are in the business of selling electricity. Understand that electric utility companies walk a tight-rope between wanting people to save energy (so the companies don't have to build new power plants which are fraught with regulatory hurdles, extremely costly and take years to get approved and built), and wanting to sell electricity. Hence, the utility companies' oversight of the solar industry to ensure that the market for electricity from traditional sources (coal and nuclear in Arizona) stays relatively stable and the utilities make money to pay for their investment.
Can you imagine if everyone in Phoenix put solar panels on their roofs? And you by now, can guess why the early solar entrepreneurs who worked on this in Phoenix back in the 1980s never got off the ground. Ener-G Block, under its former owner/developer, ran into the same road block. He believed that the local utility companies would be his biggest supporter, but as he soon found out they were his biggest obstacle. Getting building permits for the new polyurethane blocks as a viable building material was a nightmare, he told me back then.
However, plastic continues its big role in helping homes to be energy efficient. The company that bought Ener-G Block, now EnerG Block, uses the Insulating Concrete Form (ICF) technology, a system of polystyrene foam blocks in a system similar to the original EnerG Block. Cement is poured down into the blocks to provide strength to the wall. Typical thermal resistance for homes built with this technology is R-17, according to information found on the subject.
According to Mike Luebders of EnerG Block, the polystyrene blocks larger and faster to build with than the original PU blocks developed 25 years ago. "We can put up the structural phase of a house in a couple of days," Luebders said. "And the structural walls and the insulation are up in a single unit—the polystyrene foam walls are the insulation so there's not added step needed to insulate the home."
While that all sounds good, Luebders said that the same problems exist today with the ICF system that existed with the old Ener-G Block system 25 years ago. "This product is going to be hard to break into the tract home market," he said. "The primary market is still custom homes or a small developer that wants to do a 'green' community."
Obstacles for the product, noted Luebders, are the carpentry unions and lumber industry trade groups that tend to have a lot of clout with the industry and prefer doing things the way they've been done for a hundred years. "A lot of it is just being used to the way things have always been done," he added. "I think these problems still exist today that were a problem when this technology was new. Developers buy the land, then land-bank the assets for 15 years, and when the community is built they'll use the same construction methods they've always used. What incentive do they have to just jump ship and go to something new?"
Of course, that's where consumer demand comes in. Many of the new building products that involve the latest in polymer technology including vinyl siding, wood-plastic composite decking and railing, polymer roofing materials, PU foam, PS and vinyl exterior trim and interior trim and crown molding, have all become pretty much mainstream because people began seeing the benefits and demanding that their builders use those products.
There are a lot of groups with vested interests in making sure that energy savings doesn't go too far. Solar panels on the roof of every home in the Phoenix metropolitan area—making every home its own electricity provider—will not become a reality any time soon.