ARaymond wins Arburg Energy Efficiency Award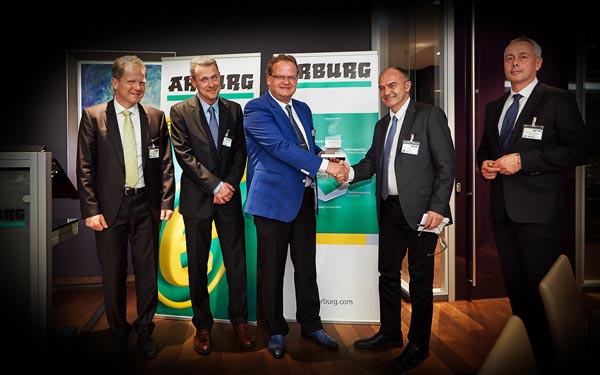 The annual Arburg Energy Efficiency Award has been given to ARaymond, the French family-owned company which is one of the world leaders in clip fasteners for the automotive industry. The award, which was presented on 10 March at the Arburg headquarters in Lossburg, Germany, recognises ARaymond's global activities where the group seeks to reduce its environmental impact in all 37 of its independent affiliates.
Michael Hehl, managing partner at Arburg, said the award shows "our appreciation for companies who, like us, take an innovative, all-embracing and global approach to the subject of energy efficiency and who excel on account of their corporate philosophy and activities".
Helmut Heinson, Arburg's managing director sales, said: "We have enjoyed a very fruitful partnership with this year's award-winner over a number of decades. And not just in Germany and Europe. We are also a successful team in America and Asia."
ARaymond has around 250 Allrounder injection moulding machines at its facilities and in 2014 it bought a Freeformer for additive manufacturing. Heinson commended ARaymond's sparing use of resources worldwide.
ARaymond has set ambitious environmental targets, focusing on two principal areas: reducing energy requirements and cutting raw material consumption. A priority is to increase energy efficiency in injection moulding production, where the focus is on reducing heat loss through insulation, as well as the use of energy efficient hybrid and electric injection moulding machines. Further measures include energy efficient cooling systems, the utilisation of the waste heat from the compressors and the reduction of compressed air leaks.
"For us, the Arburg Energy Efficiency Award 2015 represents important and encouraging recognition of the consistent implementation of our global energy efficiency targets," said Dominique Roullet-Revol, chief operations officer at ARaymond, who received the prize on behalf of the company from Michael Hehl.