Tool Carrier Robot Adds Capacity to Tekis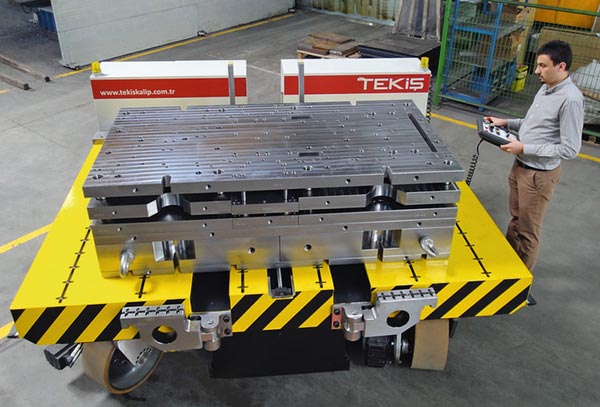 Mould base manufacturer Tekis said it has added a tool carrier robot to its custom machines and equipment manufacturing line.
The investment follows the company's recent investment in 5-axis machining. According to the Turkish manufacturer, the company will begin 5-axis machining by November with its new 5-axis processing centre, which has travels of 2,200 mm x 2,400 mm x 800 mm, and a capacity of 8,000 kg.
Goksen Kocak, Tekis business development manager, said the purchase shows meeting customer needs is a priority, and the company continues to upgrade operations. "Within a few months, we will also start to operate our new CAD/CAM/CAE system," she added.
Since 2008 Tekis has been manufacturing custom machines and equipment for both in-house use and its customers. "Meeting customer needs is our priority," said Samil Ozogul, Tekis senior managing director. "We are supplying CNC horizontal and vertical milling machines, deep hole drilling machines and special CNC machines. We also offer customised design and manufacturing solutions."
The company's latest investment and addition to its shop floor is the unique patented product tool carrier robot. According to Kocak, the robot was added to Tekis' custom equipment manufacturing line in order to meet tool sectors requirements. The tool carrier robot can handle weights from 5 to 50 tons, Tekis said. The robot pulls or pushes the tool from the shelf and from the press table. Moreover, its platform can move up and down to be aligned to various press table heights, the manufacturer said. But the highlighting advantage of the new product was its maneuvering capability, Kocak emphasised. The tool carrier robot may change its wheel-direction without moving, she added. It does not need extra space for maneuvering. It runs 100% electric.
The robot has many advantages over forklifts, the company noted. It features a smaller footprint, better maneuverability, low maintenance and operating costs, high operating safety, and all that at a competitive price, Tekis said.