Goodbye EPS trays, hello compostable plates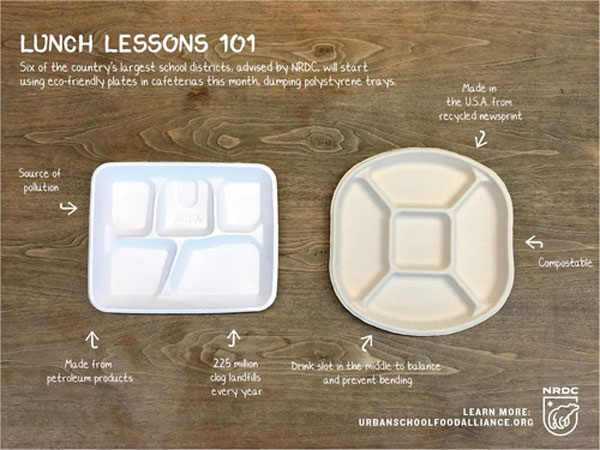 It's paper versus plastic, as the expanded polystyrene (EPS) foam controversy has once again reared its ugly head—and all in the name of keeping plastic out of landfills. The Urban School Food Alliance, a coalition of six of the largest school districts in the country, announced that they will collectively remove 225 million EPS trays annually and replace them with "environmentally preferable" compostable plates.
The six school districts include New York City, Los Angeles, Chicago, Miami-Dade, Dallas and Orlando, which announced that they will start rolling out the use of compostable round plates at cafeterias this month, replacing the rectangular EPS trays. These school districts collectively procure more than $500 million in food and supplies annually to serve more than 2.9 million students, said the alliance.
Andre Riley, Director, Dallas ISD News and Information, said that one reason they didn't recycle EPS trays was that they "did not have a source that would take our foam trays." When asked which commercial composting facility the district would contract with to take the trays, Riley noted, "Currently, we do not have a source to compost but do plan to compost what we can in house for campus use. We are in discussions with outside sources on composting opportunities."
Ellen Morgan, a spokesperson for the Los Angeles Unified School District, called to say that the district switched to compostable paper plates about five years ago. "We are not using a composting facility, but we send them to a paper recycler," she said. "We're in the pilot program stage for the new paper plates, putting them in a few schools to check out the design, see if it works for the students and getting feedback."
The alliance's release noted that schools across America use polystyrene trays because they cost less than compostable ones, with the EPS trays averaging about $0.04 apiece compared to $0.12 for the compostable plates. "Given the extremely tight budgets in school meal programs, affording compostable plates seemed impossible until the Urban School Food Alliance districts used their collective purchasing power to innovate a compostable round plate for schools at an affordable cost of $0.049 per plate," said the release.
The molded fiber plate is produced from pre-consumer recycled newsprint that is FDA approved and manufactured in Maine by Huhtamaki North America. The plate has five compartments, with the beverage strategically placed in the middle to balance the weight of a typical meal. The innovation prevents hinging or bending and is easy to handle, noted the release.
"Together we developed a quality sustainable product that will be strategically used in our cafeterias to be ecologically sound and maintain effective business practices," said Penny Parham, Administrative Director of the Department of Food & Nutrition at Miami-Dade County Public Schools. "We are proud of the opportunity we have created."
Denise Landman, Director of Public and Media Relations for Miami-Dade County Public Schools, said in a response to the inquiry that the district chose the compostable plate because to recycle the foam tray "required rinsing [away] the food debris and resulted in increased cost and staff time." The compostable meal plate provides schools with the ability "to compost the plate with the organic food waste," she added, but she acknowledged that currently "we do not have a composting facility contract in place for waste pick-up. We are developing compost labs for in-house programs connected to school site organic edible gardens and learning labs on campus. This also provides new opportunities for local and regional composting development and other biodegradable waste disposal initiatives."
Landman said that the district doesn't consider composting better than recycling, but that it "considers all different sustainability initiatives and continues to look for effective ways to reduce the total waste stream, use renewable resources and promote and find solutions to reduce, re-use and recycle in our schools."
This spring, Urban School Food Alliance school districts will work toward purchasing compostable cutlery and are expected to roll out the new utensils in schools during the 2015-2016 school year. Compostable cutlery will replace institutional-looking plastic sporks that students find cumbersome to use.