Coca-Cola to show 100% biobased PlantBottles at Expo Milano 2015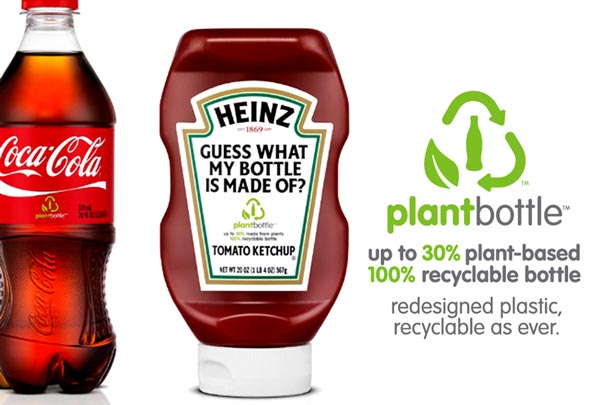 The Coca-Cola Co. (Atlanta, GA) has long been a leader in the field of biobased packaging. Starting in 2009, when it introduced its first PlantBottle, the company has steadily worked to expand and further develop this technology, with as ultimate goal by 2020: over three billion servings of its products a day, and PlantBottle technology for its entire virgin PET supply, said Klaus Stadler, responsible for the Environmental Sustainability agenda in Coca-Cola's European Business Group, at the Eighth International Conference on Bio-based Materials in Cologne, Germany. "Already today, the company is the world's largest user of bioplastics," he declared. "PET is 60% of our packaging, and the trend is going up. Obviously, we are very interested in the development of sustainable PET—a PET that is functional, recyclable and renewable."
"A recycling component is necessary, to address the problem of littering, next using bioplastic. That's a responsible approach. We're aiming for a future in which no more oil-based materials will be needed: We'll be using renewably sourced and recycled material, instead," said Stadler.
Coca-Cola currently uses PET that is 30% renewably sourced in many of its core brands. Of the two main ingredients of PET—mono-ethylene glycol (MEG) and purified terephthalic acid (PTA)—the MEG portion, which makes up around 30% of the PET molecule by weight, can be produced from natural plant sources. Coca-Cola uses MEG derived from Brazilian sugar cane to make its PlantBottle 1.0. The company is also exploring the possibilities of using second-generation feedstocks for the production of bio-MEG. "That is PlantBottle 1.1," commented Stadler。
The company has also entered into long-term commitments with industry partners Gevo and Virent to develop a bio-derived PTA, the other 70% component of PET.
"We have that. In fact, we will be showing a 100% biobased PlantBottle—what we call PlantBottle 2.0—at the upcoming Expo Milano 2015," said Stadler. Coca-Cola is the official soft drink partner of Expo Milano 2015. However, according to Stadler, it will take another five to eight years for bio-PTA to become available in commercial quantities.
"We expect our PlantBottle technology to reach price parity with conventional PET by 2018," Stadler said. "We need scale. PlantBottle packaging drives volume, value and brand love, so we are selling products with emotions, equating plants with happiness." It's proven to be a good combination for our juice and water products. But we've also entered into various partnerships to scale up the implementation of the technology."
In 2011, for example, Coca-Cola licensed PlantBottle technology to H.J. Heinz.
He added: "There is still a premium on the bio-PET we use, but we have not put the premium in our pricing. That wouldn't work, anyway. It's a very competitive market."
What about a PlantBottle made with PEF? "The PEF price situation and the sourcing is still causing some problems," he said. "But, if PEF can reach price parity with PET, it will supplant it. Otherwise, it will only be a solution in special applications." He added that fears about PEF in the recycling stream were overblown, as PEF is easily distinguished from PET in the recycling stream with the help of near infrared.
Coca-Cola is still facing a number of challenges, one of which is scaling up the new technologies to achieve commercialization. "We also need to stay on top of new technologies, as well as ensure that we have dynamic portfolio technologies and relationships." Stadler added: "Market and regulatory uncertainties are other aspects to take into account. We have run up against the EU's agriculture protection laws, for example, and face problems such as the cost burden due to duties and taxes." As a result, Coca-Cola is taking some of the investments in this area outside the EU.
"Currently, the fuel industry has got a lot of subsidies. That, also, is not helping us move forward," he said.