2014 US Machinery Shipments Rise 6%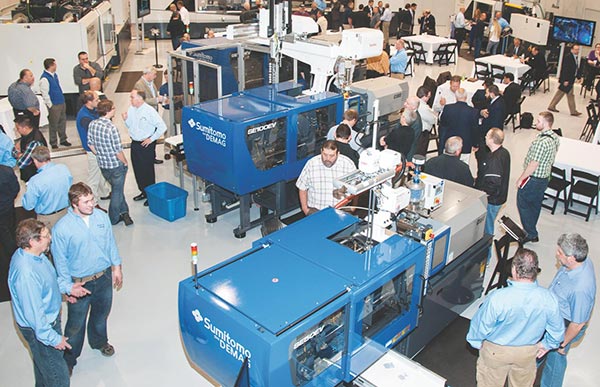 Machinery "connectedness", new applications, technology upgrades and extensions to injection molding machinery ranges were the theme of this year's Fakuma show in Germany.
Wittmann Battenfeld unveiled a new line of servo-hydraulic machines, dubbed Smartpower, which it says completely recaptures the energy released in the machine's deceleration channeling it back into its operations, along with a series of new auxiliary equipment and robots.
The Smartpower uses the company's kinetic energy recovery system, or KERS, to change the energy released by the machine's deceleration into electrical energy for the drive system, heating the barrel or powering the control system.
"This means that the entire deceleration energy is used within the machine," according to the company.
The company demonstrated two Smartpower machines at Fakuma, a 60-tonne unit making a polyamide connecting rod for a compressor and a 120-tonne unit manufacturing penholders from liquid silicone rubber. The new line will start delivery in January, in models from 25 to 120 tonnes.
Wittmann Battenfeld also presented its expanded "sandwich" manufacturing concept, using two injection units in one machine, to its large-sized Macropower line.
It has one injection unit centred in the standard position and a second injection unit placed at a "Y" angle to the main unit, allowing for better molding of applications where thick-walled parts are needed and where a less expensive or lighter, often foamed or recycled material, can be used as filler.
The concept was demonstrated at the show, molding "Lechuza" brand flower pots with a polypropylene (PP) shell and a foamed PP core on a 450-tonne Macropower machine using a single-cavity mold.
The company says it is conducting trials on a single control system that links the molding machine, robots and all auxiliary equipment, which it can do because it manufactures many of those units itself.
"It is just a concept at this point – it is not yet in the market," says Wittmann Battenfeld in a statement. "Everything is concentrated in one piece of control."
Negri Bossi showed two 210T injection molding machines at Fakuma with the SmartEnergy device for energy saving. Both machines have the new Smart Flex clamping unit that creates an oil-free molding zone.
The e Canbio machine with 210 tonne clamping force was shown molding a snorkeling glass in three materials – PBT, LSR and LSR with azote simultaneously. The silicon injection, in the predosed cavities, is achieved by a cold runner mold characterised by N lines supplied by Guzzini. A Sytrama robot removes the parts.
The e Canbio unit demonstrated molding the gear part of bowling slopes in nylon. Negri Bossi says structural foam molding has several advantages, such as weight reduction, zero sink marks and dimension stability. The technique requires significantly lower mold pressure and processing temperatures.
Targeting efficiency
Meanwhile, Austrian injection machinery maker Engel touted a number of new products and technology targeting efficiency at the Fakuma show.
It introduced a new line of standardised "pick and place" robots designed to work with smaller machines. The new "e-pic" line of robots requires half the energy of linear robots of the same size, Engel claims.
Engel also presented an improvement to its "flomo" line of flow controllers, allowing for automated adjustments of water used in mold temperature control, along with new design for one of its duo line of injection molding machine with improved ergonomics.
One aspect of machinery on display was the combining of different process technologies. The company used a duo 550-tonne injection molding machine with an integrated viper 20 robot, incorporating both its Engel foam melt process (using the Mucell foam technology) and variothermal injection molding, to make a centre console for a car from polycarbonate/ABS.
Franz Füreder, vice president of automotive business at Engel, says: "For the first time, this will enable us to produce thin-walled parts with very high-quality surfaces and excellent fine structure reproduction at the same time in a single injection molding step.
Engel believes the variothermal process, which came from French manufacturer, Roctool can also be used in appliances and household products.
The machinery maker also expanded the tonnage range of its e-motion tie-barless technology, unveiling a 50-tonne all-electric drive e-motion 50 TL, which was making a plug housing from fibreglass- reinforced PBT/ASA.
Engel says the one piece machine frame unit targets the teletronics market, where space and precision molding are important.
Smart Fast Clamp technology
Sumitomo Demag introduced its Smart Fast Clamp technology which cuts the typical cycle time of five seconds down to 4.5 seconds and can boost production output for packaging manufacturers by at least 20%.
The technology, being showcased on Sumitomo's all-electric IntElect 100 tonne machine, addresses the growing demand for faster cycling in the packaging market, giving manufacturers the fourfold benefit of enhanced energy, product quality, performance and precision.
Sumitomo Demag says this adds to increased margins that manufacturers can profit from. In terms of applications, Smart Fast Clamp is especially suitable for the production of caps and closures, as well as thin walled packaging containers.
With heat being the main enemy of fast cycling electric machines, Sumitomo's European engineers have dealt with this challenge by redesigning the geometry of the ball screw. They have also provided additional cooling on the drive system.
Nigel Flowers, managing director of Sumitomo Demag UK says: "Simply increasing the drive power doesn't help, as increased power equals increased heat. Heat on a fast cycling electric injection molding machine can cause the grease to liquefy. When that happens, you start to get mechanical wear and tear and damage to the ball screw, which innately affects the machine's performance."
Another issue is dissipation and recovery of the energy generated by faster cycling, which Sumitomo has tackled by increasing the clamp's capacitors in order to store the recovered energy. In terms of heat management, larger capacitors and spindle cooling, as well as differently designed platens, are key features.
The clamp technology, available on new all-electric Sumitomo Demag machines, provides a set of options that allow operation at much higher production rates. A typical cycle time is five seconds and with this technology, Sumitomo says it has got it down to 4.5 seconds.