Xten Buyer Plans to Hire and Expand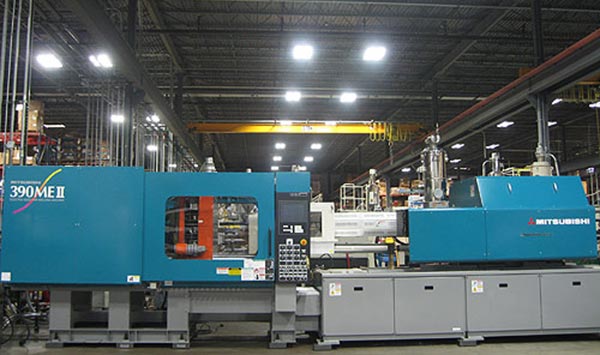 Kenosha-based Xten Industries LLC was once a thriving company, exponentially growing revenue, earning awards and adding production shifts.
By late October, however, it was on the verge of closing and laying off 120 employees if it was not sold. Commercial Plastics Co. of Mundelein, Ill., however, saw potential in the bankrupt plastic injection molding company, bought its assets, and now has plans to expand and hire.
"Growth opportunity is the main reason," said Bill O'Connor, vice president and co-owner of CPC, on his company's decision to buy Xten last month. "We looked at the customer base, the team and its synergies. Putting the teams together will make us a stronger company within the industry."

Xten had a 78,000-square-foot plant, located at 9600 55th St. CPC plans to build an 80,000-square-foot addition to that facility. CPC's Mundelein facility is 105,000 square feet.

"We like to stay at 70 percent in terms of space and machine capacity to stay flexible for our customers. If we keep growing in Mundelein, which we are, we're looking at moving over that 70 percent," O'Connor said. "This purchase doubles our capabilities and keeps us at the flexible capacity we like to stay at."

O'Connor said CPC is currently in the initial stages of the expansion, and he would like to begin building the addition in Kenosha in 2015.

CPC is also actively hiring for "several" positions in Kenosha, at what is now known as Commercial Plastics Kenosha LLC, mainly in the areas of engineering and quality.

These openings are newly created positions as well as jobs that were vacated by Xten employees who moved to Paramount Plastics LLC, a plastic molder in Lockport, Ill.

Xten acquired the assets of Paramount Plastics, then valued at $18 million, in May 2012, but it was separated and liquidated a few months ago, according to O'Connor. Not all of those employees returned to Kenosha, and CPC is aiming to fill those positions.

Meanwhile, all 120 employees of Xten and its management team will be retained in Kenosha.

"We are proud that Commercial recognized the great team we have here," said Xten co-founder Matthew Davidson at the time of the sale. "It is encouraging to know that our employees will continue as part of a growing company and as part of the fantastic community of Kenosha."

In recent years, Xten, which began as Hauser Plas Tech in Chicago, had been quickly growing in Kenosha. From June 2012 to June 2013, it grew by about 150 percent, reporting $50 million in revenue in 2013. Last year, Xten added a fourth shift to move to 24/7 production and partnered with Kenosha-based Gateway Technical College to offer a scholarship and internal training program.

The 73-year-old company was named the Kenosha Area Business Alliance's 2011 Kenosha County Business of the Year. It also earned a spot on the Inc. 5000 list in 2013 and received the Employee Engagement & Commitment Award from Wisconsin Manufacturers & Commerce in February.

So what led to Xten's bankruptcy?

"I think they took on too much too fast," O'Connor said. "The financials got to a point where it was going to be a longer and more difficult road to get back to stability. It could have happened, but they saw an opportunity to go in a different direction."

He said CPC and Xten, which have worked together for at least five years, had been in talks about the purchase for about eight months with the discussions "escalating" over the last three or four months. Xten filed a WARN notice with the state in October indicating it would close if the sale did not go through.

"We looked at it like the bank looked at it, that it needed to be financially sound quick or everyone would be out of a job. So they took our offer fairly fast to get back to stability," O'Connor said.

Xten co-founder and president Bill Renick, who agreed Xten grew too fast, said several companies expressed interest in buying the company but CPC, "was the only one to stay the course."

Terms of the deal, which was completed Nov. 14, were not disclosed.

The combined company will generate around $65 million in sales and is now better prepared to serve its customers, O'Connor said.

"Between the two companies, it gives us better capabilities," he said. "We're already a stronger company today than we were a month ago."

Xten and CPC are similarly-sized plastic injection molding companies specializing in large tonnage molding and assemblies. Xten's facility has 31 presses ranging from 60 to 1,140 tons, while CPC boasts 33 presses from 65 to 2,000 tons.

"Out with the old and in with the new," Renick said. "I'm feeling pretty good about the new owners and their philosophies."

As for his and Davidson's responsibilities, O'Connor said they have largely remained the same.

"They're really helping to integrate the companies," he said. "They're here every day and helping to keep this seamless."

Xten's business will continue as usual in Kenosha, with added opportunities.

"You can be on the right track but still get run over if the train behind you is going faster," Renick said. "The new opportunities will include increased speed of improvements. We are already experiencing this so we can stay ahead of our competition."

Added O'Connor, "If there are any changes coming up at this facility, it will just be improvements like adding new technologies and more engineering and design support."