IML Growth Leads to Investments for StackTeck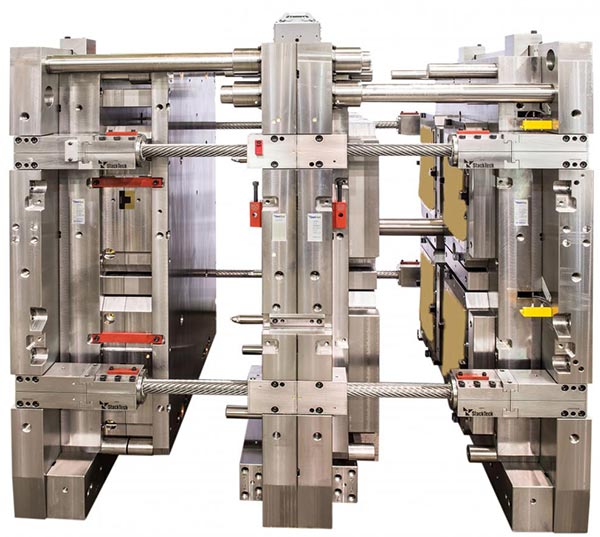 Canadian mold-maker StackTeck Systems is investing in new machining equipment and beefing up its pilot cell for in-mold labelling (IML).
"In the last 18 months, we've spent over $4m [€3.2m] on new equipment," said Jordan Robertson, general manager of business development and marketing. The metalworking equipment – including a large plate machining line, Netstal and Toshiba injection presses for mold testing, robotics and high-speed machining centres — boosts production capacity to support growing business, and cuts lead times.
StackTeck has about 100 machine tools at its headquarters factory in Brampton, Canada. The company has eight injection presses, in clamping forces as large as 660 tons.
StackTeck employs 230 people and generated $50m (€40m) sales in 2013. Robertson said the company expects sales to grow about 10% in 2014. StackTeck makes stack molds, molds for caps and closures, and other types of tooling for high-volume production, specializing in thin-wall packaging. The company has expertise in special molds with collapsing cores, in-mold closing and in-mold assembly, unscrewing and coinjection molding.
StackTeck teamed with Kortec to make what the companies claim is the world's first coinjection stack mold.
The company's markets include specialty caps, closures, consumer goods, housewares, cosmetics, medical and pharmaceutical.
In an interview in StackTeck headquarters, Robertson said the mold maker played a key role in pushing IML technology in North America. The technology grew first in Europe.
"It's definitely happening," he said. "It's a substantial proportion of the molds we're building today. It tends to be for packages that are in certain sectors. So in the earlier days of the IML adoption in North America, the molds we were building were predominantly promotional cups and ice cream containers. As time has gone, that's expanded out into other things, so now there's a lot of IML diaper wipes packages. There are a lot of cosmetics that use in-mold labelling. And it's moving its way into more of the high volume, on-the-shelf grocery applications, things like salsa dips and margarine."
Robertson said that StackTeck molds were used to mold four out of the nine winners of this year's IMDA awards from the In-Mold Decorating Association.
StackTeck began pushing ILM in 2001. "We wanted to help the molders in the Americas embrace the ILM technology at a low risk," he said. "So we offered not just the mold, but also to provide turnkey system responsibility, as well as part design services, for designing the parts and designing the label."
At the 2003 NPE exhibition in the US, the company ran an IML system at its booth. Overnight, StackTeck went from not quoting very many IML jobs to customers wanting two quotes—one for regular injection and one for IML, Robertson said. The following year, StackTeck started a pilot IML cell, and in 2005, 100 visitors attended a technology conference.
In 2007, the company added more IML equipment, but ended up selling the systems, which were on loan from supplier partners.
Now StackTeck has purchased a six-axis articulating ABB robot and a high-speed side entry CBW Automation takeout robot for the cell, running on a 330-tn Husky injection press. "What's different about this pilot cell is the equipment is owned by StackTeck," Robertson said.