Cranial Implant Company Swears by PEEK, Touts Industry-Leading Turn-Around Time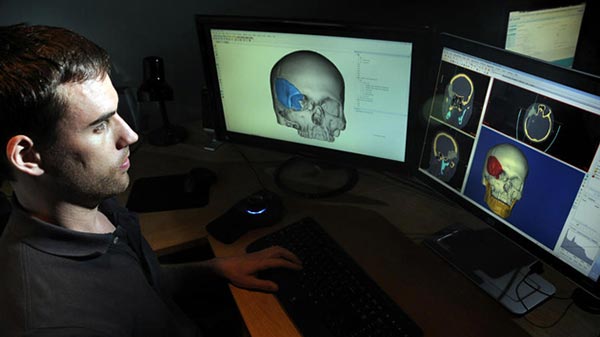 Kelyniam Global (Canton, CT) is a lean, young company that has established an enviable reputation in the production of custom polyether ether ketone (PEEK) cranial and facial implants. Its edge is in turn-around time: it can design and manufacture implants in as little as 24 hours from receipt of order, which is unmatched in the industry, according to Kelyniam. Reducing the gap between trauma and implantation benefits surgeons and patients, as well as healthcare budgets by shortening hospital stays. But process acceleration is only part of the Kelyniam narrative. The company also has a knack for developing innovative solutions to facial reconstruction dilemmas.
Kelyniam received a 3D digital skull image that showed massive reconstruction of the facial bones as well as trauma in the left facial region caused by a gunshot. Initially, the company prepared a one-piece implant, as is customary, but the surgeon soon realized that the device would require a large incision and requested a redesign. Kelyniam came back with a four-piece part that would fit through a much smaller incision and be assembled during implantation, thus reducing scarring and swelling and providing for a better structural and esthetic outcome.
"The four-part design was unique to this application," said Merwin Schaefer, Lead Design Engineer. "The goal was to mimic the form and function of healthy bone while reducing surgery and patient-recovery time. We achieved this by minimizing the entry incision and aiding the surgeon in part placement. This also combined to reduce the risk of infection," said Schaefer.
Schaefer and his team had to overcome a number of challenges in designing and machining the four complementary parts. The treatment area was complex, with rough broken facial bones and hardware from a previous surgery. Part placement had the potential to be problematic, since most of the orbital floor was missing, creating a risk that the implant could drop out of position before it could be secured. Fastening the four parts together without sacrificing part integrity or increasing the risk of infection or irritation for the patient created its own set of complications.
"The implant's orbital floor was about half the size of a normal one," said Schaefer. "This aided in part placement through the smaller-than-normal incision. The inferior orbital rim implant was built out with a supporting on-lay lip to hold the orbital floor implant." The nasal bone and frontal process of the maxilla implant were built up for aesthetic reasons, he added, and were joined against the orbital floor implant in a two-dimensional ball-and-socket joint. This design allowed the surgeon to drop in the part near its final location and slide it into place prior to fastening, explained Schaefer.
To reduce the risk of infection or irritation, the part edges were rounded and smoothed.
Kelyniam used proprietary CNC machining techniques to design parts that would on-lay precisely over each surface imperfection and achieve optimal part placement. "Each part was designed around a unique identifier on the patient's bone to allow for a custom 'drop-in' fit that could hold the implant securely in place while the surgeon placed the fasteners," said Schaefer. "In other words, each implant would on-lay exactly on top of the bone's surface. The unique identifier on-lay technique was used to help reduce lateral movements and improve part placement during surgery."
Kelyniam currently only works with PEEK. It is a superior material in that it is biocompatible, bio-inert, and is not known to cause allergic reactions, said Schaefer. "Furthermore, PEEK allows for easy intra-operative modifications, withstands steam sterilization, and is radio translucent and crack resistant. It is also comfortable for the patient because it holds a consistent temperature and is lightweight," added Schaefer.
Kelyniam was founded in 2008 and is currently seeking to expand its global footprint. The proprietary 24-hour design and manufacturing turnaround provides customers with opportunities to reduce healthcare costs, a key value proposition in today's medical technology landscape. In addition to serving surgeons and hospital purchasing groups, Kelyniam also offers contract manufacturing services to OEMs.